#PeopleofSTEAM is an ongoing blog series that highlights diverse voices in our community and the impacts they are making on the world of FIRST®, the world of STEAM, and/or in their own backyard.
Tom Wexler (he/him) is a FIRST alum, volunteer, founder & board member of The Rainbow STEM Alliance and an Industrial Technology Support Specialist for a school district in Pennsylvania. He has always been passionate about STEAM since his days on FIRST Robotics Competition Team 487 "Hedgehogs," and through his time volunteering for FIRST in a variety of capacities. Then his passion for STEAM inspired him to found The Rainbow STEM Alliance with two friends in 2018. The Rainbow STEM Alliance began as the friends, all alumni of FIRST, saw a need to promote the FIRST Core Value of Inclusion and decided to take action. The mission of the organization is to promote acceptance and inclusion of LGBTQ+ youth within the STEAM educational fields.
The goal of the Rainbow STEM Alliance is to support making FIRST, and other STEM spaces, a safe and inviting place for all LGBTQ+ to feel comfortable being themselves. While the focus of the Alliance is on LGBTQ+ youth, the Alliance welcomes and encourages people from all backgrounds to help create a supportive and inclusive community for all in STEM. To foster action and inclusion, the Rainbow STEM Alliance supports the LGBTQ+ of FIRST Student Organization, as well as supports the FIRST Scholarship program with one of the first community-based scholarships offered to students pursuing STEM.
Keep reading to learn more about Tom, his experiences, and the impact he's making in the world of STEAM.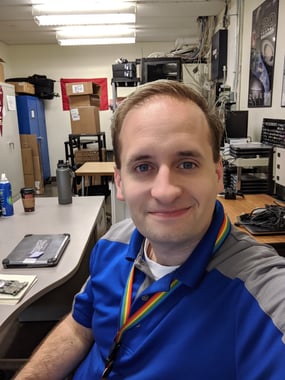 FIRST Staff: If you could give one piece of advice to your younger self, what would it be? 
Tom: It's okay to make mistakes. Everyone does. It's okay to not be okay. But you gotta keep moving forward in life.
FIRST Staff: Do you have a message you want to share for students who are participating in FIRST today? 
Tom: Answer this question: what are you the most proud of? This may be something technical, non-tech, or even something not about FIRST! Whatever you are proud of, embrace it. Enjoy it. Use that pride to push yourself forward and make this world a better place.
FIRST Staff: How do you use STEAM skills in your everyday life? 
Tom: The obvious – every day I'm faced with a new technology problem working for a school district. Sometimes it's as simple as fixing a student Chromebook. Other times it's more complex, like trying to resolve an error message that even search engines don't know about, or leading a project to replace interactive displays in three school buildings before students return in the fall. I approach each problem the same – Identify the issue at hand, propose a solution to that problem, Test and Implement whether or not the issue is resolved/project is finished, then Document what I did so future-me knows how to address the issue later. I also love using Engineering and Math to determine what's the appropriate-sized display to install (search the 4/6/8 rule).
FIRST Staff: Who is a "Person of STEAM" who inspires you? 
Tom: There's three people I've met through FIRST who continue to inspire me. First, Dr. Woodie Flowers, a blessed memory. I want to be as cool as he is when I grow up.
Second, Tom Zawislak, the FIRST Tech Challenge Program Delivery Partner for Pennsylvania and an Operations and Quality professional in Manufacturing Engineering disciplines – fancy words for, he makes sure things run smoothly in everything he does. What I love about Tom is that every interaction he has, it's about listening to the other person, seeing what they love, and showing their future is limitless – whether the person is 11, 18, or 55.
Third, Chelsea Olson – she is an Electrical Engineer for Amazon, currently working on their Prime Air Program, and a Trustee for the Museum of Flight in Seattle, Washington. She's helping bring us into the future, either from her work on previous Boeing and Amazon projects (where she has a patent pending!), or mentoring girls and being a beacon that they too belong in Engineering and Flight.
FIRST Staff: What is YOUR impact on the world of STEAM? What are you doing now, and/or what do you hope to do? 
Tom: When I started as a student in FIRST, I loved going to competitions – I could be my weird, goofy, quirky self. That was such a freeing and formative experience that I wanted to do everything in my power to make sure every student I ever interacted with felt comfortable to be their authentic self. That's taken some interesting turns over the years. As a FIRST Volunteer, I worked to foster that at my events – as a FIRST LEGO League Judge Advisor, FIRST Tech Challenge Emcee and Game announcer, FIRST Robotics Competition former Volunteer Coordinator and Referee, current Game Announcer – any interaction I have, I want to make sure it's a positive one.
That all led to some late-night conversations at FIRST Championship in St. Louis in 2018. From there, two friends and I formed The Rainbow STEM Alliance. Our nonprofit's mission is to promote acceptance and inclusion of LGBTQ+ youth within the Science, Technology, Engineering, Arts, and Mathematics educational fields. What started as a way to make and hand out shiny pins grew into something more. We became a resource for students and mentors to ask questions. We help advocate, sometimes quietly, sometimes loudly, that every student is welcome and has a place in STEAM.
Those who know me in FIRST may not know my "A" side – I've been involved with and performing arts since elementary school. Prior to the pandemic, I regularly performed with several community theaters in the Philadelphia, Pa. suburbs. My favorite roles from my theater resume include Music Director (The Wizard of Oz, Footloose, and Once On This Island Jr. among others), Sound Design and Operation (High School Musical, The Drowsy Chaperone, Little Shop of Horrors), and Actor (Perchik in Fiddler On The Roof, Nathan Detroit in Guys and Dolls, Jack in Into The Woods). There is something so magical about performing, creating a space where one can escape, lose themselves, and find joy in timeless stories. I feel strongly that there's a place for everyone in theater, just as there's a place for everyone in FIRST and STEAM.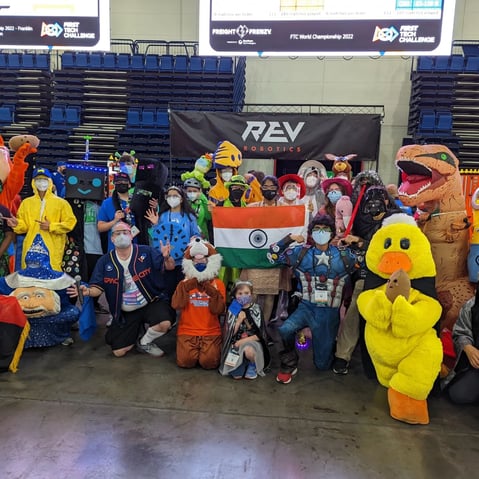 STEM is for ALL. Learn more about the Rainbow STEM Alliance.
Looking for resources for supporting LGBTQ+ youth? FIRST partners with Project THRIVE, a multi-year, collaborative effort of many national organizations led by the Human Rights Campaign Foundation to create more equitable, inclusive, support systems and communities for LGBTQ+ youth. For resources, including webinars, parent guides, training, and more, visit the FIRST ED&I Resource Library Page.
Are you a person of STEAM? Share your story with #PeopleofSTEAM on social media or send us your story at marketing@firstinspires.org.