Eneilis Mulero, a biologist in Puerto Rico, had never heard of FIRST® when she answered the call to serve as a subject-matter expert for a FIRST team during the FIRST® LEGO® League ANIMAL ALLIESSM season. She thought she was helping some students with a typical science fair project but soon learned it was so much more. Read on to learn more about Eneilis' FIRST volunteer story and how she became inspired by FIRST participants along the way.
How did you get involved with FIRST®?
During my master's degree in Biology, I would regularly visit my study site, United States Army Garrison Fort Buchanan, in the metropolitan area of San Juan, Puerto Rico. The installation has K-12 schools and I would provide scientific workshops and presentations there. The DPW Environmental Division would also pass along teacher requests for any orientations related to science and the environment. In 2017, the DPW Environmental Division received a request from one of the teachers of Antilles Middle School, Miray Ramy, related to student science projects. I talked with the base's Environmental Manager about some environmental projects being done inside the installation, specifically my research project concerning an endangered snake species. I provided a talk for two teams of students on different occasions. One of the student groups was a FIRST team participating in the FIRST® LEGO® League ANIMAL ALLIESSM season.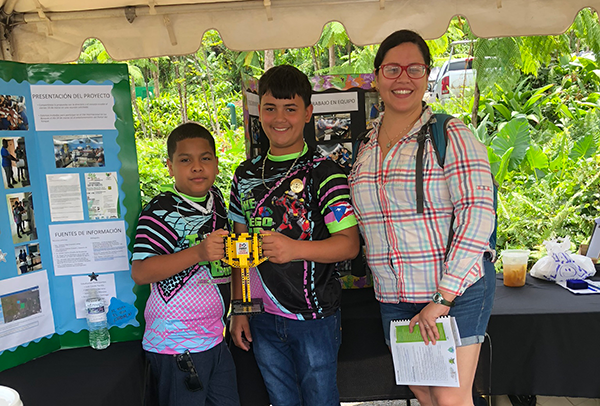 At that time, I didn't even know what FIRST was or the magnitude of the organization; I just thought it was a 'typical' project for their school's science fair. It was only later that I was able to see the big picture and the impact of what they did. I provided tips, some level of mentoring, and captured the endangered snake, the Puerto Rican boa (with all the appropriate permits, of course!) so they could observe capturing and handling techniques. I also took them on a field trip to search for snakes so they could observe, firsthand, the problems biologists encounter in the field and think about solutions. The level of scientific inquiry and analysis these 11 to 13-year-old students were accomplishing captured and intrigued me. It is something that can be achieved when the right resources, guidance, and challenge are provided.
This is how I became involved with FIRST, thanks to Miray and her nonprofit, Eureka. I was in the right place at the right time! I went on to help organize an expert panel for the FIRST LEGO League HYDRO DYNAMICSSM season in 2017, but it was canceled due to Hurricanes Irma and Maria. Later, I became a FIRST AmeriCorps VISTA in February of 2018.
What do you think is the most rewarding part of being a volunteer with FIRST?
As a woman in STEM, the most rewarding part is spreading interest in STEM-related fields in a fun and challenging way. I have enjoyed guiding teams from all over Puerto Rico and networking with other entities and people with similar interests to aid and collaborate with FIRST Puerto Rico and all team members of Eureka to prepare for events.
Can you share a moment or story from your involvement with FIRST that really impacted you?
During my first interactions with the team in the FIRST LEGO League ANIMAL ALLIES season, I did not know about FIRST or what it was. I thought the students were doing a project for a school science fair. I did not realize the project was for a worldwide event that engages youth in STEM in a fun, challenging way and incorporates FIRST Core Values. Regretfully, I was unable to assist at the local championship. However, the team of students I helped mentor won the FIRST LEGO League Puerto Rico ANIMAL ALLIES Championship. We were all so happy at the Environmental Division at Fort Buchanan! Especially because they had decided to go with an animal that is socially underrated – the snake!
After that, the students invited me to attend the FIRST Championship in Houston, Texas, in 2020. I felt extremely honored to be invited. The team even raised money for me to attend! I was not expecting students to do that!
The FIRST Championship was unbelievable, with youth and people from so many countries participating and showing their solutions to a global community. I saw, firsthand, the magnitude and impact FIRST challenges have on youth from around the world. I was in awe when I saw the diversity of youth and their research projects at the FIRST Championship. I mean, some projects can get patented or funded for further research and many of them are younger than 16! Also, to observe people like Miray Ramy and her organization volunteering to give these experiences to youth is inspiring.
I never had these opportunities or resources as a young person. When I was younger than 16, I knew I had to continue my studies but did not know what to do. I never had a significant experience in STEM from K-12. Having these experiences at such a young age is helpful to youth even if they discover STEM is not for them. If you want to help youth and provide them with resources that help them decide if STEM is the career they want to choose, then FIRST is a great place to volunteer!
What advice would you give to a new volunteer?
Read about FIRST and the local organization that manages it in the region where you will be volunteering. It's important to understand the local organization's mission and vision. Always know that volunteering with FIRST is a team effort and you rely on each other. Lastly, be punctual so everyone else can do their work in a timely fashion, too.
Eneilis Mulero has a master's degree in biology from the University of Puerto Rico at Mayaguez, where she studied the movement patterns, home range, and habitat selection of the Puerto Rican boa, an endemic species of snake on the endangered species list. She is currently investigating the presence and prevalence of ophidiomycosis (previously known as Snake Fungal Disease, SFD) in invasive and native snakes of Puerto Rico with the Interamerican University of Puerto Rico, Metropolitan Campus and teaching as a biology professor at both Interamerican University and the University of Puerto Rico, Arecibo campus.