This article was originally published on Rockwell Automation's social channels.
International Women in Engineering Day, celebrated annually on June 23, focuses attention on the great opportunities for women in engineering, at a time when it has never been more important to address the engineering skills shortage.
By encouraging girls to enter into engineering careers, not only does society increase diversity and inclusion - a business imperative - but it enables an opportunity to fill the substantial future job opportunities that have been predicted in the engineering sector.
FIRST and always
One of the ways we here at Rockwell Automation encourage young people to pursue engineering as a career is through our support of FIRST, a mentor-based program that engages students from kindergarten through high school. It crosses socioeconomic, race and gender boundaries to build science, engineering, and technology skills. In addition to significant monetary and in-kind support, we encourage employees to volunteer as mentors, judges and referees.
Women as mentors
As important as it is for our company to support this work, it's our people who make the greatest impact. Many women engineers in our company have been involved with, and continue to support STEM and FIRST – inspiring the next generation of engineers. People like: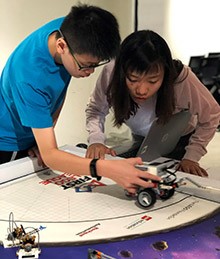 Lining Huang, Senior Product Specialist
"I got involved in FIRST because of STEM in our in Singapore office. I believe engineering and technology make a huge difference in our lives and therefore inspiring the next generation of children to be involved in STEM is paramount – it's what we can and should do as an engineering company."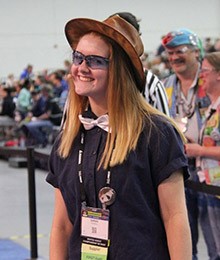 Sarah Fogwell, Digital Engagement, Digital Portfolio Team
"I got involved with FIRST as a student, trying to defy the social norms that come with being a high school girl. I hope that young ladies (and gentlemen) see the path that FIRST has set me on, going to college and interning at Rockwell Automation, and are inspired to pursue whatever career they want because they know they have been given the tools to do so."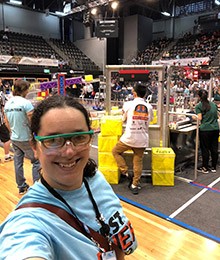 Kerryn Sakko, Solutions Consultant
"I have always had a passion for STEM and grew up being part of a science club. My introduction to FIRST happened when I started with Rockwell Automation in 2016. I remember going to the FIRST Robotics Competition (FRC) in March and being blown away by their passion and achievements. I'm grateful for the teams who embraced and guided me through what FRC was about and the challenges the teams face. That was the beginning of my passion for FIRST and my drive for volunteers to assist with these programs to continue FIRST's growth and success. I believe that the younger we expose children to STEM, the more informed they can be about potential careers."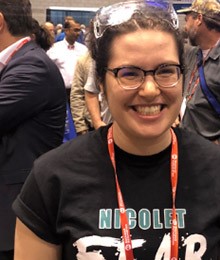 Dina Nabutovsky, Engineer Associate, Systems and Solutions Business
"After attending an event, all I could think of was 'this is so cool! I want to get involved!' A friend told me about a local a team her family volunteers for and convinced me to join as a mentor. Based on my experience, I feel like it's a stereotype that you have to be identified as 'super smart' or 'a genius' to go into STEM fields. Although it's challenging, EVERYTHING will have its challenges. I want to encourage high school students, both girls and boys, that as long you are passionate, put the effort in, and have willingness to learn, it's doable and there are plenty of opportunities for everyone."
Learn more about our STEM Partners and Inspiring Young Minds.