Meet Carter, a FIRST alum and scholarship winner at Syracuse University
Carter Thompson, FIRST alum from FRC Team 20, The Rocketeers, is a first-year aerospace engineering student at Syracuse University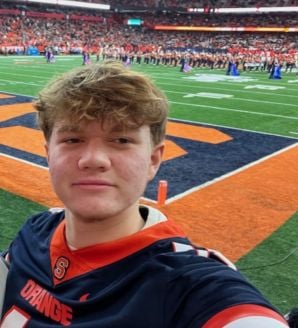 Happy holidays, FIRST Family!
My name is Carter Thompson, a freshman Aerospace Engineering student and FIRST Scholarship recipient at Syracuse University. While in high school, I was a co-captain, mechanical sub-team lead, and pit leader of Team FRC#20 – The Rocketeers – from Clifton Park, NY. My experiences with FIRST and Team 20 sparked my interest in engineering, and I chose Syracuse to help me pursue engineering as my career. The academic rigor, atmosphere of the campus, and the pride of the alumni really captured my attention.
My favorite class at 'Cuse so far has been Intro to Engineering with Dr. John Dannenhoffer, who is an Associate Professor of Mechanical and Aerospace Engineering. In this class, we covered the basics of several aerospace engineering topics, including aerodynamics, aircraft performance, propulsion, structures, and materials. This class gave me multiple opportunities to use Syracuse's full-motion flight simulator located in Link Hall. The end of the semester project in this class is hands on and my FIRST experiences prepared me well for the challenge!
I have met many new friends in my classes as well as through our Engineering and Computer Science Living Learning Community. The Living Learning Community or LLC is a great opportunity to live with other engineering and STEM students to form study groups as well as help each other with homework and projects. The support system the LLC creates cannot be beat! I highly recommend you choose this for your freshman year housing if you join us at Syracuse.
Outside of classes, I am involved in many student organizations. I am on the propulsion sub-team of our Design Build Fly (DBF) team, a member of our University's chapter of the American Institute of Aeronautics and Astronautics (AIAA), as well as a part of the Engineering and Computer Science Excelerators program giving lab tours to incoming students. You will also see me at ALL home football and basketball games, rock climbing at Barnes (our campus fitness center), trying out our ski club, or at one of the many Orange After Dark events.
I hope you will consider joining me at 'Cuse! Syracuse offers $25K/year renewable FIRST Scholarships to selected admitted students who participate in FIRST Tech Challenge or FIRST Robotics Competition. Be sure to fill out the FIRST form located on our website, so the Syracuse admissions team has a record that you're a FIRST student. Syracuse uses the Common Application.
Wishing you an amazing FIRST season! Go Orange!
Carter Thompson '26