It's with much sadness that we share the news that Francois J. Castaing, a longtime supporter of FIRST, has passed away. From the FIRST community, we extend our deepest condolences to his family and loved ones.
Francois Castaing, retired Executive Vice President, Chrysler Corporation, served on the FIRST Board of Directors from 1994 to 2013, when he became an Honorary Director. He was instrumental in introducing FIRST programs to Michigan after his friend, FIRST Founder Dean Kamen, brought him the idea. Castaing pitched FIRST to the Big Three automakers – Chrysler, Ford, and General Motors. They immediately recognized the value of introducing Michigan kids to STEM at a young age. In 1996, Castaing started the first team at Chrysler – the "Killer Bees," who still compete today. From 2009 – 2020, he was FIRST in Michigan Chairman of the Board.
"In the very early days of FIRST, I searched for corporate chieftains that might support the organization. I connected with Francois Castaing, a legend in the auto industry for engineering acumen and race car team excellence, and a very senior Chrysler executive," said Kamen. "Francois exceeded all my expectations, coaxing Chrysler to support FIRST teams and become a FIRST Founding Sponsor, and creating an amazing volunteer organization in Michigan, led by Gail Alpert. He also innovated – creating the FIRST Robotics Competition District Model and piloting it in Michigan. We all owe great thanks to Francois for significantly advancing the mission of FIRST."
In 2008, Castaing was key in reorganizing the FIRST Robotics Competition program in Michigan, customizing its approach to include more frequent local competitions and greater representation among schools. Today, FIRST reaches nearly 40,000 K-12 students and mentors on 2,980 teams in the state.
"His generous spirit and passion for nurturing the next generation of innovators made him the perfect Chairman," said Alpert, FIRST in Michigan Chairman & President. "Francois loved to innovate: cars, companies, anything he could make better through his hard work, strategic clarity, ingenuity and determination. He gathered the automotive industry together and urged them to support FIRST. They all did. And thanks to Francois, they still do."
As a testament to his influence, FIRST Robotics Competition team "Superior Roboworks" has named every robot in his honor since 1999 – including their 2023 robot, Francois XXIII.
Castaing was an engineering graduate from École Nationale Supérieure d'Arts et Métiers in Paris. Over his more than 40-year career, he was recognized as a visionary change agent who helped transform the automotive industry. His passion for cars was built on his desire to create and to make a difference in the lives of others, said the Automotive Hall of Fame, who inducted Castaing in 2010. An executive with Chrysler, American Motors and Renault, he was also a member of the United States National Academy of Engineering and a fellow of the Society of Automotive Engineers.
"… Industries need a steady flow of new, motivated engineers to tackle international competition and environmental challenges," Castaing told CBS Detroit in 2011. "FIRST Robotics has proven repeatedly that high school students' misconceptions about careers in engineering and technology can be overcome. FIRST is the only varsity 'sport' in which all participants can actually turn pro.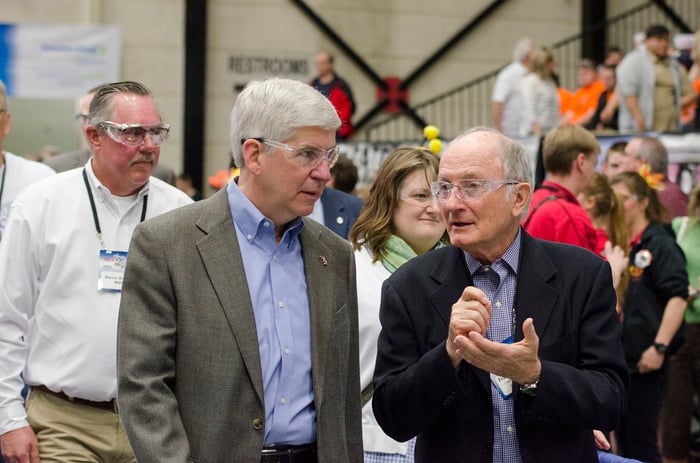 Castaing (right) with Gov. Rick Snyder at the 2016 FIRST Robotics Competition Michigan state championship. Courtesy: Wikiwand