By Dave Tomko
Sixth Grade Teacher
FIRST® Coach (FIRST® LEGO® League Challenge teams 577 & 578 and FIRST® Tech Challenge team 12792)
2022 Inspire the Future: FIRST Educators Recognition Program Cohort Member
---
Every day, we encounter problems that are solved by advanced technology, and the devices that we use have essentially become the foundation of our lives. From a smart device, laptop, or an autonomous robot working in a business or manufacturing facility; the science behind these advances is transforming our way of thinking – and Computer Science is behind the scenes of it all.
What is Computer Science? 
Computers and computational systems are the key elements studied in Computer Science. The use of algorithms, data systems, artificial intelligence, the connection between software and hardware, and coding are just a few of the many factors behind the thinking of a computer scientist. Additional skills such as computational thinking and problem solving are the foundation to stretching a person's potential to developing innovative concepts. When someone studies Computer Science, they take on the role as a developer writing and executing commands to solve a problem. 
Learning Computer Science is Essential Education for Today's Students
The Computer Science field is one of the fastest growing fields of study. According to the U.S. Bureau of Labor Statistics, software development is expected to grow by 25% in the United States over the next ten years – this means more than 400,000 open positions will be added to the job market.
With the increasing demand for Computer Science professionals, the importance of learning Computer Science has never been greater. The skills needed in this field include analytical and logical thinkers, detail orientation, project management, technical skills in the STEM fields, among many others. When applied, these skills can be used in one of the many fields in Computer Science, such as software development, web/app development, cybersecurity, artificial intelligence engineering, computer hardware engineering, video game development, and more. 
Computer Science skills are transferrable to many other fields and are relevant to almost every field of study, making those with Computer Science degrees marketable to almost any company or organization. For example, someone with a Computer Science background could develop software for a leading vehicle manufacturer, use artificial intelligence at a financial institution to determine who should get a loan, or use it to predict a disease outbreak.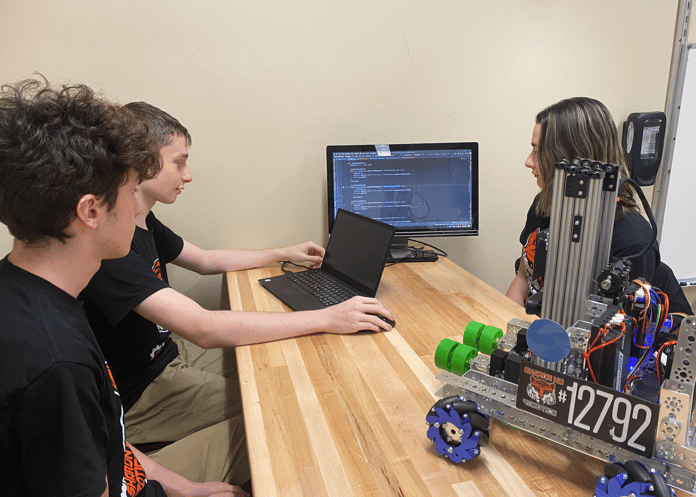 Incorporating Computer Science-Based Learning into Curriculum & FIRST® Programs
There are so many ways that educators can incorporate more Computer Science-based learning into their curriculum and local FIRST programs. FIRST mentors and coaches do not have to have a Computer Science background in order to lead FIRST teams, but they can certainly still teach Computer Science concepts! If you're a mentor or coach who is new to Computer Science, tapping your local community to identify experts who have a career in Computer Science is a great place to start. These individuals can be an outstanding resource, whether to help instruct students in the classroom, serve as an additional FIRST mentor to a team, or as a mentor to an educator or coach. Even high school and college students with Computer Science skills can able be an invaluable resource to help mentors and bring new skills to younger students.
Computer Science Learning for Elementary & Middle School Students
At this stage of learning, educators can focus on teaching basic programming skills and computational thinking. For example, students can learn about pseudocode and comments, and how to debug systematically and employ proper coding methodologies. Prime Lessons and EV3 Lessons are both great online resources that offer step-by-step instructions on coding and building techniques and can be utilized in the classroom or a local FIRST LEGO League program.
Computer Science Learning for High School Students
For high school students, educators can spend time teaching both programming and mechanical aspects. Students can learn real-world programming languages, vision processing, and other advanced techniques, that they can then use later in their professional careers. For example, in the autonomous portion of FIRST Tech Challenge and FIRST Robotics Competition, students are challenged with automating certain processes. This is a fantastic way for students to understand the systems of making such a process function. Students can also implement machine learning/artificial intelligence to detect balls, cones, and targets. While FIRST games are fun, they are teaching students to challenge themselves to go beyond the game and apply the skills they are learning in the classroom and beyond.  
Critical Skills for the Future
The skills learned in Computer Science are far reaching, and all students who participate in FIRST have the chance to "go pro" if they choose! Learning Computer Science, whether in the classroom or through a FIRST program, provides an opportunity for students to develop multiple skills and reveal new and exciting pathways that may just lead to a future career. Whether you are an experienced educator or coach in Computer Science or just beginning to implement curriculum and programs, keep the opportunities available for students to learn and the rewards will provide a lifelong journey for their future.