As the Director of Customer Centric Solutions-ADAS, Vehicle Software and Power Conversion at NI, Ricardo is responsible for delivering innovative solutions related to autonomous driving and electric vehicles to NI's customer base.
In his role, Ricardo oversees the vigorous testing that ADAS (advanced driver-assistance systems) and AD (autonomous driving) systems require for a number of real-world scenarios. A study done by the Pew Research Center shows that 45% of Americans say they would not feel comfortable sharing the road with driverless vehicles. The work that Ricardo and his team facilitate helps NI move closer toward the global goal of Vision Zero, which means zero crashes, zero emissions, and zero congestion in the automotive industry. This goal originated in Europe in the early 2000s and is now being upheld and worked towards by the automotive industry on the global level.
Every day, Ricardo uses his STEAM skills to communicate with engineers to understand these challenges and problem solve. With authentic collaboration happening, Ricardo's team works efficiently together to keep people safe and accelerate the future of autonomous and electric vehicles and work towards Vision Zero.
Read more below about how Ricardo is making an impact in the world of STEAM through his career at NI.
FIRST Staff: How do you use STEAM skills in your everyday work/life?
Ricardo: I use STEAM skills pretty much every day. An example is when talking to the engineers to understand their challenges, discuss their designs, or even question their effort estimates. This is a part of my job that I really enjoy. I sit with the engineers, and we talk about how they are solving a problem, and then we discuss the challenges they have and the possible solutions.
FIRST Staff: Can you share your thoughts on the impact of your personal/professional work in STEAM?
Ricardo: I see my work contributing to the world and specifically STEAM in that what we do is help accelerate that future we want. "Zero accidents, zero lives lost" [is what we strive for]. What my team and I do is help improve the technology [in autonomous and electric vehicles] by measuring and testing it.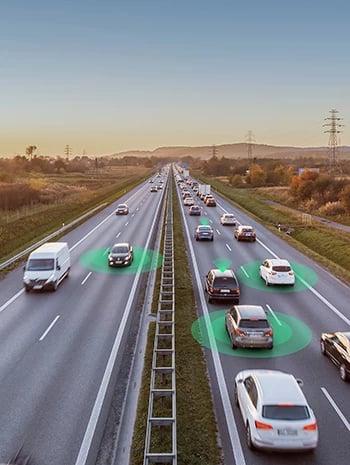 FIRST Staff: Who is a "Person of STEAM" who inspires you?
Ricardo: Jeff Kodosky. He is one of the founders of NI and the father of "LabVIEW." LabVIEW made programming accessible to people who don't have programming experience and allowed people to focus on more complex tasks than spending many hours debugging text-based code. His product truly helped others innovate.
FIRST Staff: If you could give one piece of advice to your younger self, what would it be?
Ricardo: Trust in yourself, be ready to take on opportunities, and don't overthink them.
FIRST Staff: Do you have a message you want to share for students who are participating in FIRST today?
Ricardo: Challenge yourself to think outside the box. Identify and understand the problem to solve and think, "what would be the ideal solution be," without considering known constraints. Allow yourself to brainstorm all sorts of ideas. You will find that by doing this you will be a lot more creative and may find innovative solutions to your problems.
Are you a person of STEAM? Share your story with #PeopleofSTEAM on social media or send us your story at marketing@firstinspires.org.