Meet Abby and Caleb, two teenagers from Hack Club who discovered their love for coding through FIRST®.
Abby Fischler, 16, a junior at Geffen Academy at UCLA, was a member of FIRST Team 1836, and hosted a Virtual Robot Showcase for over 100 teams!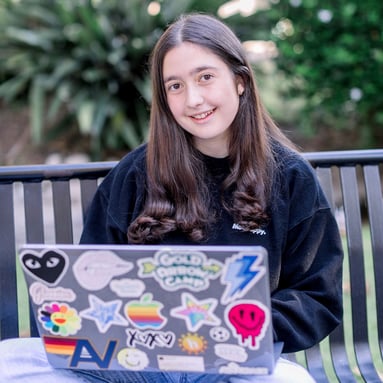 Caleb Denio, 18, of New Hampshire, built FRCbot which streams real-time match scores into Slack for his FRC team 8724.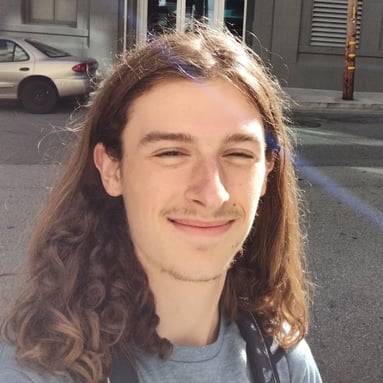 They're just two teenagers at Hack Club, the largest online network of teen hackers in the country. In the past 3 months, teenagers in FIRST and Hack Club like Caleb, Abby, and thousands of others have shipped coding projects like Million.js, a virtual DOM library and a lightweight drop in replacement for React that has thousands of stars on GitHub; Some Assembly Required, a guide to making your computer faster by coding directly with Assembly; and they collaborated to build Sinerider, a video game about love, math and coding– with thousands of views online that Elon Musk liked on Twitter.
Through the Hack Club Slack, Abby and Caleb have also been able to meet others in FIRST programs interested in coding.
This Fall, Hack Club and FIRST will give $500 to support any high schooler running a hackathon in their community. A hackathon is a weekend coding event, overnight, where you build projects with friends.
To learn more and find a hackathon near you, check out hackathons.hackclub.com.
Now, meet Caleb and Abby!
---
FIRST: 150 teenagers came to Hack Club's hackathon in San Francisco this August. What was that like?
Caleb:
It was really cool to connect with other Hack Clubbers from around the world in person. There were actually high schoolers from FIRST teams there. The hackathon theme was "stupid stuff no one needs" and we had 36 hours to build something. The projects were all "intentionally dumb". My favorite project was a productivity tool that flashes a light at you if you don't type fast enough. It was built by a 14 and a 16 year old.
FIRST: Can anyone organize a hackathon? How?
Abby: Yes! We have a hackathon organizers' channel on Hack Club's Slack where you can find templates for email pitches to venues, explore our open source documentation like the run of show for Hack Club's hackathon, and other help such as meeting other teenager organizers. Hack Club also runs Hack Club Bank which is completely free for high school hackathons (we're waiving all fees). Hack Club Bank, you'll have access to a nonprofit bank account, free tools—like Google Workspace, debit cards, and more.
FIRST: How has FIRST and Hack Club helped inspire you?
Abby: In 7th grade, I joined a FIRST Tech Challenge team where I immediately gravitated towards coding the autonomous part of the game. My team mentor invited me to attend my school's FIRST Robotics Competition team where I immersed myself in it head-on. I attended all practices going further; then COVID hit. During COVID, I organized a virtual robot showcase so all teams would be able to highlight their hard work. At this point, is when I realized how important community is and how cool it is to share what you are passionate about with others and talk about it together. That's what Hack Club is all about - it's a community of kind, passionate, and highly technical teenagers who all code real things daily together on a global scale. Through the Hack Club Slack, I've been able to collaborate with others on coding projects and also meet others in FIRST programs.
Caleb: I spent a lot of time in FIRST— I think it showed me a very concrete use of programming and helped kickstart my interest in the field. Before I joined FIRST, I dabbled in programming but never built anything tangible. In FIRST I built an attendance system for my team. Eventually I moved onto web stuff that isn't necessarily taught in FIRST but FIRST is what introduced me to programming as a useful tool. I don't know if I ever would have considered programming as a serious career if not for FIRST.
FIRST: How can FIRST Teams and participants benefit from participating in Hack Club?
Abby: Participating in, or even hosting a hackathon is a perfect off-season event. It allows you to have fun coding with others while also getting to become more technical. Furthermore, Hack Club and FIRST will help in promoting these events to get them in front of teenage hackers in your team's area. Also, FIRST teams can utilize Bank to help structure their team's finances even if they aren't running a Hackathon. Our website is hackclub.com. If you are interested in starting or participating in a hackathon this semester visit: hackclub.com/hackathons. There you can find the largest directory of high school hackathons: hackathons.hackclub.com.
FIRST: Why Hack Club?
Caleb: What I struggled with the most in high school was there weren't a lot of programmers to connect with. There are other teenage programmers out there— and they're hanging out in Hack Club.