Gaurav and Sabir are both students on FIRST® Tech Challenge Team BSRC Niwant, a robotics team made up of students in India who are visually impaired. Their team was formed by another FIRST Tech Challenge team that recognized a need to create a space for visually impaired students to explore and gain experience in STEM in their hometown of Pune, India. Through custom teaching tools created by their peers on the mentor team, Gaurav, Sabir, and their fellow teammates were able to build a robot and compete in the FIRST Tech Challenge India National Championship and win a Judge's Award. Learn more about these students and their experiences in the Q&A with FIRST staff below.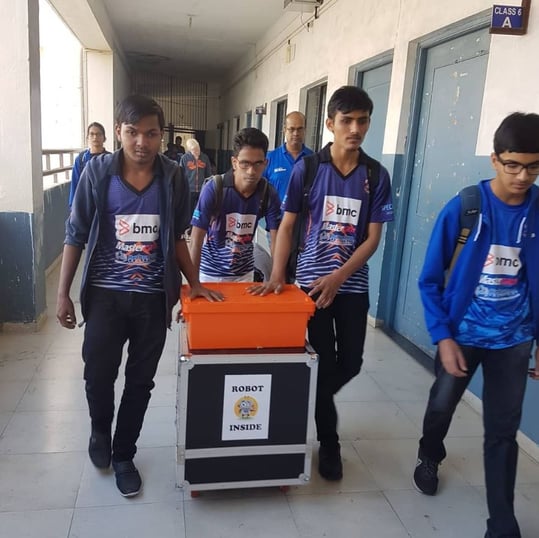 FIRST Staff: How has the experience of being on a FIRST team impacted your life?
Gaurav: It was an amazing experience to be a part of FIRST Tech Challenge Team "BSRC Niwant." I was always fascinated by computers since I was a child and dreamt about becoming a software engineer. After going through the FIRST experience, I am now extremely hopeful of making my dream come true.
Sabir: I like tinkering with things and finding out how things work. Someday I hope to become a mechanical engineer and build racing cars. Building the robot was one of the best things I have done in a long time.
FIRST Staff: What makes you feel empowered?
Gaurav: The knowledge about robot programming that I got during FIRST Tech Challenge makes me feel that programming is something doable [for] me. I am now more confident than before about my dream of becoming a software engineer.
Sabir: Now that I have built a robot with my own hands, how hard can it be to build racing cars! I know I need to study a lot to reach that stage, but I am willing to put in all the effort.
FIRST Staff: How do you inspire and encourage other students to explore FIRST and STEM?
Gaurav: Having been part of a FIRST team, I now want to teach other students like me how to program robots. The knowledge I have gained, I want to share with my fellow visually impaired students.
Sabir: I want to be a FIRST mentor.
FIRST Staff: What have been some of your proudest moments being on the team?
Gaurav: My most proud moment was when my autonomous program started working for the first time. And then we won the Judges Pathbreaking Journey Award, that was another proud moment.
Sabir: When we were playing the matches, I couldn't believe that the robot we built was [succeeding over] many other robots present there. That was definitely my proudest moment! And of course, the award.
FIRST Staff: Describe the FIRST experience in three words.
Gaurav: I think FIRST, and especially the FIRST Tech Challenge program is very useful for students in school. I am very happy to have been a part of this and winning the matches and the award is definitely icing on the cake. In three words, FIRST is awesome!
Sabir: Mind blowing experience!