The new world of work requires young people to enter adulthood "career ready." They must have the strong foundation of knowledge, skills, and capabilities needed for work in the 21st Century. Having these skills, along with life skills like self-confidence and leadership, will empower them to make meaningful contributions in their respective pathways.
Participation in FIRST allows young people to build these critical skills through an expanded team structure that allows them to experiment with jobs and tasks and find where they truly excel. In partnership with a network of corporate sponsors, FIRST helps to prepare today's youth for the future of work. In celebration of National Engineers Week, we are highlighting a series of FIRST alumni who are leveraging these transferrable skills as engineers in the workforce today.
Oscar Fonseca works for FIRST sponsor NI as a Staff Systems R&D Engineer. We sat down with him to learn more about how he is using the skills honed through his FIRST participation in his current role.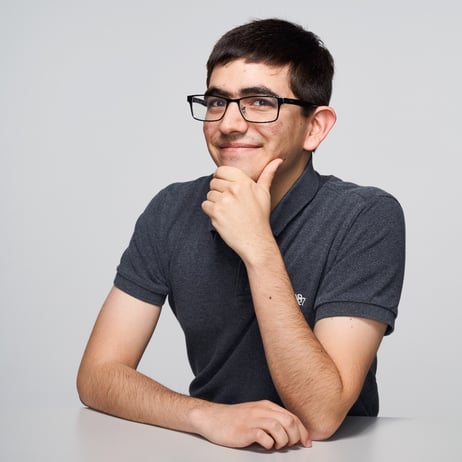 How/when did you become involved with FIRST?
FIRST has played a prominent role in my life – from high school all the way to my engineering career.
I was first introduced to FIRST during my first year of high school with team 2283, Panteras, and I was immediately drawn to all of the learning and growth possibilities they offered. It's because of FIRST that I landed my internship with NI in Mexico City while I finished my engineering education. In fact, it's thanks to FIRST that I discovered NI!
Since graduating from high school, I've continued to mentor FIRST Robotics Competition teams and volunteer for many events in North America – from Texas district events to Championship.
How did your participation in FIRST influence your post-graduation career/education choices?
I always knew I wanted to pursue a STEM-related career, but I wasn't sure of which one until my participation in FIRST. Thanks to the hands-on approach of the program, in which we were running our own technology company, I found myself doing all sorts of integration tasks between our engineering and business areas. Hence, I applied for mechatronics engineering to deepen my understanding on how systems work together, and got a scholarship at the Universidad Panamericana where I completed my undergraduate degree in 2017.
It was because of my involvement with the business area of my team that I got to connect with the companies that sponsored both FIRST and my team, leading me to land an internship with NI in Mexico City while I finished college.
After moving to the United States to work as an applications engineer, I joined NI's FIRST Technical Support team―which I had the opportunity of leading in 2019.
Nowadays, I still pursue the passion for systems thinking that I found through FIRST by leveraging my engineering background and studying a master's in business administration at the University of Texas at Austin.
What skills did you gain through FIRST that you currently use as an engineer?
FIRST has provided me with both technical and business skills I would not have developed without the program, from learning how to talk with sponsors to how to operate a laser cutter. Specifically, there are three areas that have immensely served me through the years.
Through being involved with the business team I learned how to navigate corporate environments. I practiced presentation skills when asking for sponsorship, English essay writing when submitting awards, and branding considerations when working with the team's promotional materials, multimedia and social media.
Secondly are troubleshooting abilities, which I have used in multiple stages of my life. For example, providing technical support, or aligning multiple company departments to offer a service. These skills and techniques usually encompass finding root causes, coming up with innovative alternatives, and trying them out in a controlled environment.
Finally, mentorship. Being able to guide students through the thought process of defining a problem, considering alternatives, and reaching a solution. Moreover, the capacity to listen, ask questions and provide enough guidance to enable my mentees to learn from the experiences that FIRST provides.
Who was/is your biggest role model in the world of engineering?
My grandfather, Jose R. Lozano, who taught me the wonders of engineering since I was a small kid. He worked in the highways construction industry as a civil engineer. I remember him explaining to me how a cement mixer worked, and how the trace of the highways required of a diverse array of machinery (which he had in smaller replicas over his desk.)
What I admire the most of him was his incredible mix of technical mastery of his profession alongside a deep commitment to ethical behaviors and making the world a better place. I will always be incredibly thankful to my grandfather for showing me what gracious professionalism looks like before I got to know that term!
How would you describe your job as an engineer?
In a word: Entertaining! Engineering is about finding solutions to challenging problems, and that's what I get to do every day. I enjoy the constant discovery of new technologies and applications, learning new skills and working with a fabulous team. My happiest days always happen when we get to release a new offering to the public or I hear about a customer success story.
My day to day consists in putting together hardware and software to create automated test systems for automotive companies. Some examples include our Battery Test System for electric vehicles or a Data Record System for autonomous driving. I also ensure that our services and support teams are ready to make our customers successful with these systems―from reviewing the technical documentation we deliver, to creating training material to teach new platforms to our engineers.
Without doubt, the best part of my job is being able to keep engaged with FIRST in multiple levels: as a mentor for my local FIRST Robotics Competition team, as a CSA (control system advisor) during events season, and as a sponsor through NI's commitment to FIRST.
What would you consider to be some common misconceptions about engineering or the actual jobs that engineers do?
Foremost, that engineering is not just about math. While it does require calculations, most of the work relies on your creative skills to find solutions to problems.
Most importantly, though, that engineering goes beyond mechanisms, coding, or designing electrical boards. Engineering is a way of thinking. It prepares you to think imaginatively about the problems you ought to solve and find the best solutions to them―sometimes in the most unexpected ways. As such, it opens a lot of opportunities in many different fields, from space exploration to financial analysis.